Exterior House Painting in Fort Lauderdale specializes in repainting existing residential homes and anything that needs painting/staining on the property. We can also paint new construction or commercial buildings.
We remove old, peeling paint from exterior surfaces by scraping, sanding and pressure washing the house as needed, leaving a sound surface to accept the finish paint (after priming bare wood).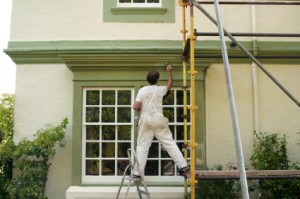 The Florida sun can age your Fort Lauderdale house of office building before its time.
Exterior colors are sometimes plain, so let us help you choose exterior colors. We can suggest colors that will give your house the look of class it deserves. Ft Lauderdale homes shine in the Florida sun with a new coat of paint. We can help maintain the look of your home, by pressure washing it once a year to keep it clean. Our professional painters do finish painting for all interior painting and will re-install moldings.
Call House Painter Fort Lauderdale for all your exterior house painting needs, even finish decks, railings, arbors and fences.